These boots are the go-to when snow and rain start to fall. Our amazing "Waterproof Boots" are made with polyurethane non-slip sole, three-dimensional non-slip design, increased ground frictional grip, steady when walking. 
This all-purpose winter boot features an improved fit while retaining the reliable warmth and exceptional winter grip. Anatomically engineered with a windproof and waterproof high shoe design, feature plush and non-slip rubber sole, this boot is ready to trek.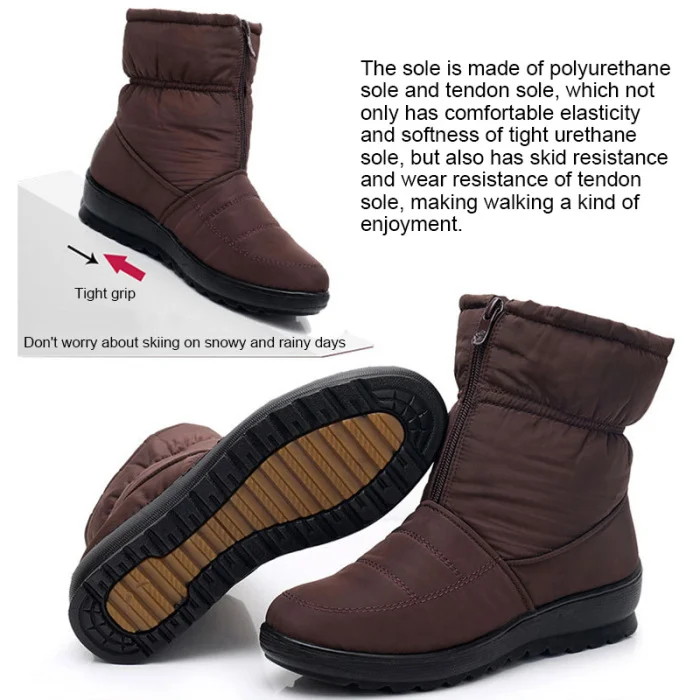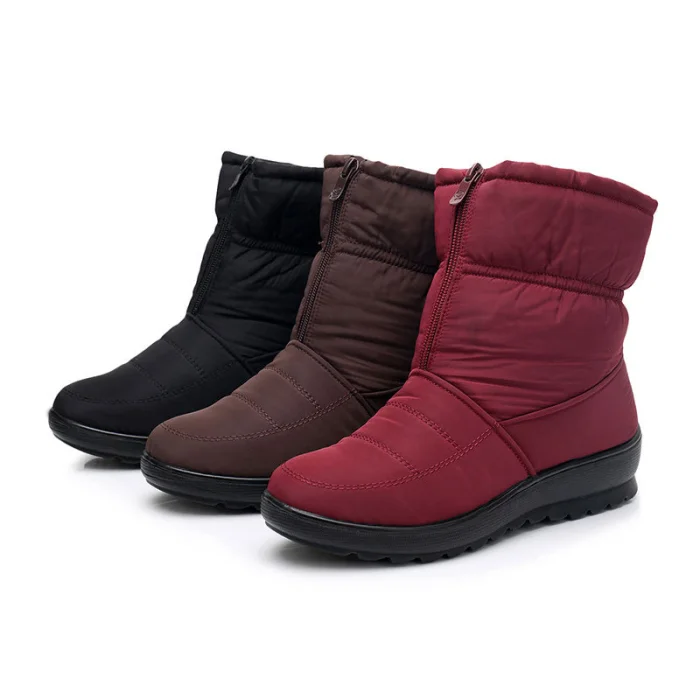 Item Measurements:
We strongly suggest you have your measurements taken and use them as a reference when selecting an item's size. Measure yourself by following the guide below.
To measure your foot length, sit down on a chair and place your foot flat on a piece of paper. Trace the foot by holding a pencil vertically and outlining the foot. Using a ruler, measure the distance from the bottom of the heel to the tip of the longest toe. Record the result in both inches and centimeters and use these measurements to find your size in the chart.
Shipping Policy
Country
Order Amount
Shipping Fee
Shipping time
United States
Over $59
Free 
7 - 20 Business Days
Under $59
$5.99 
7 - 20 Business Days
Others

Over $59

Free 
10 - 25 Business Days
Under $59
$6.99 
Notes:
1) Shipping Time does not include a 2-5 days processing period required to process your order from the date your order is placed. 
2) Our products are produced in Vietnam, China, Korea and so on,
all our products are shipping directly by our factories
. So it may take more than 10 days of long international transportation.
3) We will make every effort to deliver your package ASAP. However, additional time may be required due to invalid addresses and custom clearance issues.
4) Should your package not arrive within 30 days after you have placed your order, you must contact Customer Support within 30 days after your order was placed.
*
Shipping time delayed due to New Crown epidemic *
Affected by the New Crown Epidemic (COVID-19),  logistics takes longer than ever. Shipping time may also be delayed as a result. Thank you for understand.
Return & Refund Policy
We hope you love what you've ordered! But just in case you're not 100% satisfied, we've made the return process super easy.
How long do I have before making a return, and do I have to pay for shipping?
Because everyone has been asked to stay at home, we want to do our part to help. For all orders placed after February 1, 2020, the return window has been extended from 45 days to 60 days.
1. You have a max of 
60 days
to make returns. You must send back and postmark your return packages within
60 days
after the purchase date. No returns made after 
60 days
from the purchase date will be accepted.
2.Shipping Fee: The product arrive damaged, different, or not working, Owlkay.com will offer the return&exchange shipping fee. If the customer needs to return&exchange the product with personal issues, the customer need to offer the return shipping fee. 
What should I do if I need to request a return&exchange?
To initiate a return&exchange, please contact our customer service team (service@owlkay.com) for an assessment. Upon approval, the return address will be emailed to you. Please note, items must be shipped back to the address provided by customer service, NOT the address on your original delivery.
How will I receive my refund?
Refunds will be processed within 7 days after we receive your package. The refund will be issued to your original payment account, as per your request.
Important Notice:
1. Please do not send your return to the sender's address on your package. This is not the return address and will affect the processing of your return. You should only send it to the address
provided by our customer service.
2. Please make sure you don't include non-Owlkay.com items by accident in your return package. We will not be responsible for sending back those items to you.
NOTE:
If you have any issues with your return, you can contact Customer Support 
service@owlkay.com
Honestly Shocked!
Was searching for waterproof boots mostly to step out into the rain and mud to walk my dogs. First impulse was choosing the blue boots, but the review w/pic looked cartoonish blue (like a superhero). I immediately called the next day but they said it was too late to change them.I was especially bummed because it took 6 weeks for the package to arrive (don't know if that's anything to do with shipping backlog all over the world). I went a little nuts and added multiple boots, shoes, slippers, socks, and insoles. When the package arrived it looked like it had been ripped open and taped back together (maybe customs? Idk). Was leery but still super excited it finally arrived so I ran inside and dumped the entire contents on my bed. OMG it smelled like I had just received a box full of plastic junk. Immediately thought, "Oh **** no! I'm sending the whole lot back and never buying shoes online again!! HOWEVER, as I started looking at everything and trying them on I just couldn't believe it!!!! They should send me a pair in another color for how much I've talked them up now! Those blue boots are now one of my absolute favorite shoes I've ever purchased. They are BEAUTIFUL, and as comfy and waterproof as they claim. I can't get over how the blue is sooo perfect! They look like suede even close up. Don't know how they did it, but even the color tone is incredible because it's super neutral. Can wear them with almost anything.The little olive colored slip on shoes totally surprised me, too. At first I thought they looked too plastic. No way. They are amazing, too. Love everything I ordered except the patterned cabin socks aren't as thick or soft as I'd like, and the pull on slipper socks' holes are too tiny (I'm at the top of foot chart 10). Btw, all the shoes are really true to size! I hate going up to an 11, so got 10's in everything and they're just perfect.