999907
999517
999348
999678
999462
999743
999767
999813
999962
999941
999929
999866
999874
999915
999930
999946
999752
999988
999970
999964
999956
999956
999965
999978
999971
999589
999811
999878
999876
999868
999904
999924
999990
999986
999980
999966
999971
999972
999965
999971
999954
999705
999874
999795
999802
999823
999866
999891
999910
999653
999307
999631
999602
999677
999769
999796
999976
999944
999916
999899
999876
999912
999929
999930
999983
999973
999959
999927
999913
999926
999945
999964
Owlkay Breathable Elastic Band Woven Light Flat Shoes
Gray / 5.5 (35) - $39.99
Gray / 5.5 (35) - $39.99
Gray / 6 (36) - $39.99
Gray / 6.5 (37) - $39.99
Gray / 7 (38) - $39.99
Gray / 7.5 (39) - $39.99
Gray / 8 (40) - $39.99
Gray / 8.5 (41) - $39.99
Gray / 9 (42) - $39.99
Rose / 5.5 (35) - $39.99
Rose / 6 (36) - $39.99
Rose / 6.5 (37) - $39.99
Rose / 7 (38) - $39.99
Rose / 7.5 (39) - $39.99
Rose / 8 (40) - $39.99
Rose / 8.5 (41) - $39.99
Rose / 9 (42) - $39.99
Orange / 5.5 (35) - $39.99
Orange / 6 (36) - $39.99
Orange / 6.5 (37) - $39.99
Orange / 7 (38) - $39.99
Orange / 7.5 (39) - $39.99
Orange / 8 (40) - $39.99
Orange / 8.5 (41) - $39.99
Orange / 9 (42) - $39.99
Purple / 5.5 (35) - $39.99
Purple / 6 (36) - $39.99
Purple / 6.5 (37) - $39.99
Purple / 7 (38) - $39.99
Purple / 7.5 (39) - $39.99
Purple / 8 (40) - $39.99
Purple / 8.5 (41) - $39.99
Purple / 9 (42) - $39.99
Blue / 5.5 (35) - $39.99
Blue / 6 (36) - $39.99
Blue / 6.5 (37) - $39.99
Blue / 7 (38) - $39.99
Blue / 7.5 (39) - $39.99
Blue / 8 (40) - $39.99
Blue / 8.5 (41) - $39.99
Blue / 9 (42) - $39.99
Black / 5.5 (35) - $39.99
Black / 6 (36) - $39.99
Black / 6.5 (37) - $39.99
Black / 7 (38) - $39.99
Black / 7.5 (39) - $39.99
Black / 8 (40) - $39.99
Black / 8.5 (41) - $39.99
Black / 9 (42) - $39.99
Colorful black / 5.5 (35) - $39.99
Colorful black / 6 (36) - $39.99
Colorful black / 6.5 (37) - $39.99
Colorful black / 7 (38) - $39.99
Colorful black / 7.5 (39) - $39.99
Colorful black / 8 (40) - $39.99
Colorful black / 8.5 (41) - $39.99
Colorful black / 9 (42) - $39.99
Colorful powder / 5.5 (35) - $39.99
Colorful powder / 6 (36) - $39.99
Colorful powder / 6.5 (37) - $39.99
Colorful powder / 7 (38) - $39.99
Colorful powder / 7.5 (39) - $39.99
Colorful powder / 8 (40) - $39.99
Colorful powder / 8.5 (41) - $39.99
Colorful powder / 9 (42) - $39.99
Sapphire grey / 5.5 (35) - $39.99
Sapphire grey / 6 (36) - $39.99
Sapphire grey / 6.5 (37) - $39.99
Sapphire grey / 7 (38) - $39.99
Sapphire grey / 7.5 (39) - $39.99
Sapphire grey / 8 (40) - $39.99
Sapphire grey / 8.5 (41) - $39.99
Sapphire grey / 9 (42) - $39.99
WALK COMFORTABLY AND PAIN-FREE
Flexible, light, stylish, and SUPER COMFY!
The innovative ortho-cushion system with the premium orthotic insole and cushioning sole soften impacts, making every step you take soothing with comfort.
You'll be on a cloud in these sandals, as the memory foam insole supports you with every step. The Recycle Woven is antibacterial, deodorization, and Quick to dry.
The cushion-like, double-padded memory foam insole is very soft. And the sandal is easy to combine. Don't worry about that.
ARCH SUPPORT
The Special Three-Arch-Support design makes sure your weight is evenly distributed across the toes, arch & ball of your feet.
Perforated arch for ventilation and breathability. Air cushion design makes these shoes are perfect work shoes for those who need to stand or walk for a long time. Lessen plantar pain.
NANO-FOAM
The important invention used in this pair of sandals is that the sole with nano-foam will transform to fit and comfort on all feet. So this is the most comfortable type of sandals in the world.
It's lightweight but with a wedge design that will make you walk more steadily
& stand for hours, without any strain or imbalance.
WEAR-RESISTANT
This shoe's sizing is equivalent to street shoe size.
Super lightweight and flexible just like socks, breathable and smooth fabric provide great freedom and a comfortable feeling.
ADVANTAGES
Excellent shock absorption soles: Make your walk more steady & stand for hours without any strain or imbalance.
Reduces Pain: Eliminate the pain caused by flat feet, poor walking posture, and plantar fasciitis.
Posture Correction: Straighten your hips, correct kick knees, and muscle imbalance by adjusting the structure of your feet.


SUITABLE FOR ALL OCCASIONS
These shoes are suitable for any daily use, such as long-time standing work, walking, casual, floor shoes, plantar fasciitis, nursing, fishing, gardening, dress, shopping, travel, driving, jazz, tap dance, street jazz, ballet, folk dance, Zumba, athletic, workout.
SPECIFICATION:
Upper Material: Recycle Woven
Heel Height: About 3cm
Shoe Width: Medium
Sole Hardness: Soft
Season: All seasons
Occasion: Casual, Travel, Daily

Features: Non-slip, Antibacterial, Deodorization, Quick dry
SIZE CHART:
1. Please select a suitable size base on your foot length;
2. Once you know your foot length, consult the Size Chart to determine which size you should purchase. Some tags' UK/US size numbers may be different from our size chart's UK/US size number; please take our size chart as the standard reference.
 Attention!  Size Chart ( The Default Size is US Size)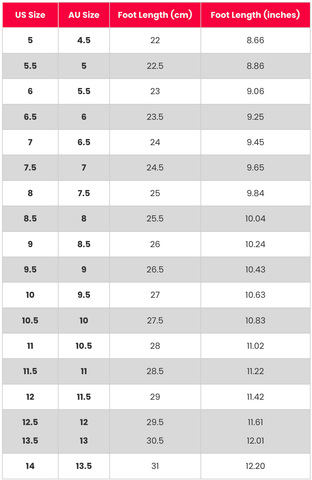 | | | | |
| --- | --- | --- | --- |
| US Size | AU Size | Foot Length (cm) | Foot Length (inches) |
| 5 | 4.5 | 22 | 8.66 |
| 5.5 | 5 | 22.5 | 8.86 |
| 6 | 5.5 | 23 | 9.06 |
| 6.5 | 6 | 23.5 | 9.25 |
| 7 | 6.5 | 24 | 9.45 |
| 7.5 | 7 | 24.5 | 9.65 |
| 8 | 7.5 | 25 | 9.84 |
| 8.5 | 8 | 25.5 | 10.04 |
| 9 | 8.5 | 26 | 10.24 |
| 9.5 | 9 | 26.5 | 10.43 |
| 10 | 9.5 | 27 | 10.63 |
| 10.5 | 10 | 27.5 | 10.83 |
| 11 | 10.5 | 28 | 11.02 |
| 11.5 | 11 | 28.5 | 11.22 |
| 12 | 11.5 | 29 | 11.42 |
| 12.5 | 12 | 29.5 | 11.61 |
| 13 | 12.5 | 30 | 11.81 |
| 13.5 | 13 | 30.5 | 12.01 |
| 14 | 13.5 | 31 | 12.20 |
Questions about your size? We'd love to help. For assistance, please contact Customer Service Team - service@owlkay.com.
How to measure the shoe's size?
Measure the maximum length of your foot.
Shipping Policy
Country
Order Amount
Shipping Fee
Shipping time
United States
Over $59
Free 
7 - 20 Business Days
Under $59
$6.99 
7 - 20 Business Days
Others

Over $59

Free 
10 - 25 Business Days
Under $59
$6.99 
Notes:
1) Shipping Time does not include a 2-5 days processing period required to process your order from the date your order is placed. 
2) Our products are produced in Vietnam, China, Korea and so on,
all our products are shipping directly by our factories
. So it may take more than 10 days of long international transportation.
3) We will make every effort to deliver your package ASAP. However, additional time may be required due to invalid addresses and custom clearance issues.
4) Should your package not arrive within 30 days after you have placed your order, you must contact Customer Support within 30 days after your order was placed.
Return & Refund Policy
We hope you love what you've ordered! But just in case you're not 100% satisfied, we've made the return process super easy.
How long do I have before making a return, and do I have to pay for shipping?
Because everyone has been asked to stay at home, we want to do our part to help. For all orders placed after February 1, 2020, the return window has been extended from 45 days to 60 days.
1. You have a max of 
60 days
to make returns. You must send back and postmark your return packages within
60 days
after the purchase date. No returns made after 
60 days
from the purchase date will be accepted.
2.Shipping Fee: The product arrive damaged, different, or not working, Owlkay.com will offer the return&exchange shipping fee. If the customer needs to return&exchange the product with personal issues, the customer need to offer the return shipping fee. 
What should I do if I need to request a return&exchange?
To initiate a return&exchange, please contact our customer service team (service@owlkay.com) for an assessment. Upon approval, the return address will be emailed to you. Please note, items must be shipped back to the address provided by customer service, NOT the address on your original delivery.
How will I receive my refund?
Refunds will be processed within 7 days after we receive your package. The refund will be issued to your original payment account, as per your request.
Important Notice:
1. Please do not send your return to the sender's address on your package. This is not the return address and will affect the processing of your return. You should only send it to the address
provided by our customer service.
2. Please make sure you don't include non-Owlkay.com items by accident in your return package. We will not be responsible for sending back those items to you.
NOTE:
If you have any issues with your return, you can contact Customer Support 
service@owlkay.com
Perfect
I bought these shoes for my elderly mum who always struggled to get a shoe to fit her sometimes swollen feet. These fitted perfectly and were so easy to take on and off. She loves them, and I have bought a pair for myself. So light and comfortable.
Owlkay Breathable Elastic Band Woven Light Flat Shoes
Absolutely love them! So comfortable and I get tons of compliments.
got my new shoes
Love them!! I have been wearing elastic band woven shoes for years. Used to buy them at Skechers but now I can order them online. Same great quality, same great fit. They are The Best!!
Owlikay breathable elastic band woven flat shoes
Love them. Great fit. Comfortable. Go with everything. Enough support so I don't worry about falling. Will continue to buy