Shop the latest collection of Owlkay Soft Sole Breathable Mesh Walking Shoes for women. Experience ultimate comfort, breathability, and trendy style with every step!
H1: Owlkay Soft Sole Breathable Mesh Walking Shoes: Walk With Comfort and Confidence
Welcome to Owlkay, your trusted destination for women's casual shoes and sneakers. We are proud to present our top-rated Owlkay Soft Sole Breathable Mesh Walking Shoes, offering you the perfect combination of comfort, breathability, and modern style.
H2: Trendy and Versatile Designs for the Modern Woman
Our Owlkay Soft Sole Breathable Mesh Walking Shoes come in a wide array of trendy designs and colors, allowing you to find the perfect pair to match your personal style and to complement your casual outfits.
H3: Unmatched Breathability for All-Day Comfort
Crafted with high-quality breathable mesh material, our Owlkay Walking Shoes ensure excellent ventilation, reducing sweat and odor to keep your feet fresh and comfortable throughout the day.
H4: Superior Soft Sole Technology for Extra Support and Durability
The soft soles of our Owlkay Walking Shoes are designed to provide optimal shock absorption, arch support, and durability, promoting healthy foot function and providing superior comfort during your daily activities.
H5: Lightweight Design for a Comfortable Walking Experience
Thanks to their lightweight design, our Owlkay Soft Sole Breathable Mesh Walking Shoes offer a comfortable walking experience, perfect for long walks, exercise, or for those busy days full of errands.
H6: Affordable Quality and Exceptional Value
At [Your Shop Name], we believe in offering high-quality footwear at competitive prices. With our Owlkay Soft Sole Breathable Mesh Walking Shoes, you'll get exceptional value without compromising on quality or style.
H7: Convenient Shopping Experience and Excellent Customer Support
Enjoy a smooth and convenient online shopping experience with us. If you have any questions or need assistance, our friendly customer service team is always ready to help.
H8: Step into Comfort with Owlkay Soft Sole Breathable Mesh Walking Shoes
Upgrade your casual footwear collection with our stylish and comfortable Owlkay Soft Sole Breathable Mesh Walking Shoes. Shop now at [Your Shop Name] and enjoy the perfect blend of comfort, breathability, and style. Don't wait – get your new favorite pair of shoes today!
The cushion-like, double-padded memory foam insole is very soft. And the sandal is easy to combine.
PERFECT FOR ALL-DAY ACTIVITIES
Helps Control, Stabilize & Balance the Foot. Heat Moldable for a Custom Fit. Absorbs Shock & Reduces Friction to Improve Overall Foot Comfort.
ADVANTAGES
Great shock absorption soles: Make your walk more steadily & stand for hours, without any strain or imbalance.

Reduces Pain:

Eliminate the pain caused by flat feet, poor walking posture, and plantar fasciitis.

Posture Correction:

Straighten your hips, correct kick knees, and muscle imbalance by adjusting the structure of your feet.

PERFECT FOR ALL-DAY ACTIVITIES
SPECIFICATION:
Upper Material: Fly woven
Heel Height: About 3cm
Shoe Width: Medium
Sole Hardness: Soft
Season: All seasons
Occasion: Casual, Travel, Daily
Features: Non-slip, Antibacterial, Deodorization, Quick dry
 Attention! Size Chart ( The Default Size is US Size)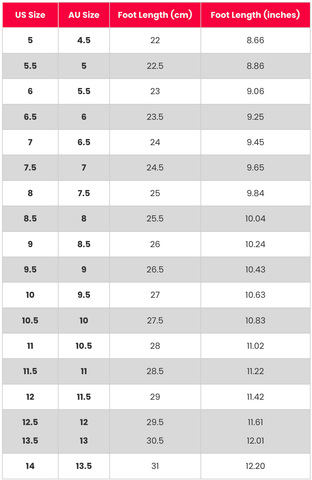 | | | | |
| --- | --- | --- | --- |
| US Size | AU Size | Foot Length (cm) | Foot Length (inches) |
| 5 | 4.5 | 22 | 8.66 |
| 5.5 | 5 | 22.5 | 8.86 |
| 6 | 5.5 | 23 | 9.06 |
| 6.5 | 6 | 23.5 | 9.25 |
| 7 | 6.5 | 24 | 9.45 |
| 7.5 | 7 | 24.5 | 9.65 |
| 8 | 7.5 | 25 | 9.84 |
| 8.5 | 8 | 25.5 | 10.04 |
| 9 | 8.5 | 26 | 10.24 |
| 9.5 | 9 | 26.5 | 10.43 |
| 10 | 9.5 | 27 | 10.63 |
| 10.5 | 10 | 27.5 | 10.83 |
| 11 | 10.5 | 28 | 11.02 |
| 11.5 | 11 | 28.5 | 11.22 |
| 12 | 11.5 | 29 | 11.42 |
| 12.5 | 12 | 29.5 | 11.61 |
| 13 | 12.5 | 30 | 11.81 |
| 13.5 | 13 | 30.5 | 12.01 |
| 14 | 13.5 | 31 | 12.20 |
Questions about your size? We'd love to help. For assistance, please contact Customer Service Team - service@owlkay.com.
How to measure the shoe's size?
Measure the maximum length of your foot.
Shipping Policy
Country
Order Amount
Shipping Fee
Shipping time
United States
Over $59
Free 
7 - 20 Business Days
Under $59
$6.99 
7 - 20 Business Days
Others

Over $59

Free 
10 - 25 Business Days
Under $59
$6.99 
Notes:
1) Shipping Time does not include a 2-5 days processing period required to process your order from the date your order is placed. 
2) Our products are produced in Vietnam, China, Korea and so on,
all our products are shipping directly by our factories
. So it may take more than 10 days of long international transportation.
3) We will make every effort to deliver your package ASAP. However, additional time may be required due to invalid addresses and custom clearance issues.
4) Should your package not arrive within 30 days after you have placed your order, you must contact Customer Support within 30 days after your order was placed.
Return & Refund Policy
We hope you love what you've ordered! But just in case you're not 100% satisfied, we've made the return process super easy.
How long do I have before making a return, and do I have to pay for shipping?
Because everyone has been asked to stay at home, we want to do our part to help. For all orders placed after February 1, 2020, the return window has been extended from 45 days to 60 days.
1. You have a max of 
60 days
to make returns. You must send back and postmark your return packages within
60 days
after the purchase date. No returns made after 
60 days
from the purchase date will be accepted.
2.Shipping Fee: The product arrive damaged, different, or not working, Owlkay.com will offer the return&exchange shipping fee. If the customer needs to return&exchange the product with personal issues, the customer need to offer the return shipping fee. 
What should I do if I need to request a return&exchange?
To initiate a return&exchange, please contact our customer service team (service@owlkay.com) for an assessment. Upon approval, the return address will be emailed to you. Please note, items must be shipped back to the address provided by customer service, NOT the address on your original delivery.
How will I receive my refund?
Refunds will be processed within 7 days after we receive your package. The refund will be issued to your original payment account, as per your request.
Important Notice:
1. Please do not send your return to the sender's address on your package. This is not the return address and will affect the processing of your return. You should only send it to the address
provided by our customer service.
2. Please make sure you don't include non-Owlkay.com items by accident in your return package. We will not be responsible for sending back those items to you.
NOTE:
If you have any issues with your return, you can contact Customer Support 
service@owlkay.com
Excellent
Truly amazing pair of shoes I do feel like I'm walking on clouds it's very light and comfortable I would recommend it to anyone I really like them and the colour is also gorgeous I will buy another pair for summer something different great shoes.
Good products but size is not accurate
I take a size 8 shoe but the Owlkay size 8 was way too big. I can use an insert and Scholl's heel grabber to make them work and they are very comfortable.
wide width
Shoes are very nice but I need wide width.
Owlkay Soft Sole Breathable Mesh Walking Shoes
SWELLING GONE!!!! LOVE THESE SHOES
My feet have been swelling for two years nothing helped. I started to wear these shoes and they have gone down. I need you to make some that are like a boot so they go higher on the foot. I have not been able to find shoes I could get on till now.